| | |
| --- | --- |
| NZ Rail Diesel-Electric Locos | |
Tranz-Rail currenty operate around 170 mainline locos of mostly the DC, DFT, DX, and DJ class of Diesel-Electric powered machines. Diesel-Electrics first made their appearence on our 1067mm guage national system in 1952.
Following is some detail about the machines most likely to be found operating in or around Hamilton in the Waikato which is where I'm thinking of modelling an N-Scale railway.
DA class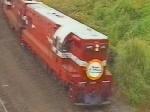 The DA class were an 80tonne loco fitted with 12cyl General Motors Diesel engines with 1060kW output powering 4 DC traction motors. Used extensively in the North Island. A small number were refitted for shunting duties in Te Rapa and reclassified as DAA. From the late 70's onwards many of the DAs were refitted as DC class locos. The rest were withdrawn from service in the late 1980's with a couple still in private and enthusiast ownership today.
DC class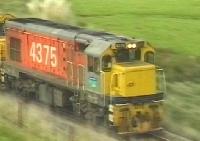 In the late 70's 85 of the DA class locos were converted into the new DC class with the new lower cab design and refitted with GM 1230kW motors. Only expected to add another 20yrs to their life the DCs still make up a significant portion of the Tranz-Rail fleet today.
DFT class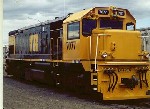 The 30 DFTs are mid-90's rebuilds of the eariler DF class with turbocharged GM 1800kW engines powering 6 traction motors and are used throughout New Zealand.
DX class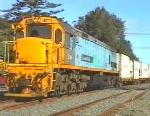 One of the mainstays of mainline operations in NZ the 49 DX class 97tonne locos are powered by a 12cyl General Electric engine with an output of 2240kW driving 6 electric traction motors. The DX was introduced for heavy freight service and is based on the GE U26/30C locos.
DSC class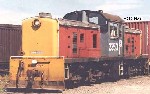 There were about 70 these double-ended centre-cab locos supplied in two batches but many have been written off. The two batches were configured slightly differently but ran pairs of 6-cyl engines producing about 315kW of power. Apparently there are DSC/DSJ/DSG's in Te Awamutu, Morrinsville, and a third in Frankton/Te Rapa. The following locos have been spotted locally: DSJ4032, DSC231 and 2720.
More Info
The above a loco classes commonly seen around Hamilton and the Waikato. Check out the following excellent resources for more details about these and the rest of the NZ rail loco fleet:
---
See Also: Model Railways | Notes Index