DeeKnows WebCam
The latest capture from Dirty old Dinsdale...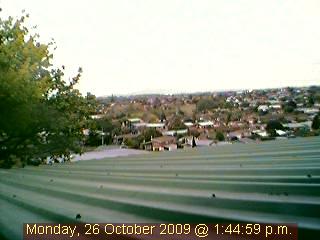 Some older random captures...
To see more of my web-cam victims, reload this page...
Q. Why on Earth would someone want a WebCam?
Thousands of people have emailed me over the years complimenting me on my fantastic website, but there's also a common complaint about the fact that they cant put a face to the name, so here it is, and aint it beautiful.
Q. But I know what you look like, why do I need a picture?
You owe it to yourself to check out my glorious image as often as possible. Its well known that I am a fashion/style guru to millions of blokes around the world, you should keep visiting to keep yourself up to date with latest trends in T-Shirts and facial hair.
Q. How do I know you're really there?
The date and time that the photo was taken is embeded in the bottom of the photo. This was something of a dilema for me, as now I'm forced to answer my phone in case the caller has checked on the web to see if I'm actually in my office.
Q. Arent WebCams just a vanity gadget?
this is probably mostly true, except when your as good looking as me its hard to resist checking yourself out. Plus the camera takes up less room on my desk than a mirror would.
Q. Arent you a few years behind the times with this WebCam thing?
OK Smart-arse. That may well be the case, but better late than never aye?