Very Fucking Hot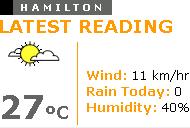 Jesus, Mary, Joseph and the donkey, it is very Fucking hot in the Waikato today. I just had a look at the weather page on stuff.co.nz which indicates Hamilton is the hotest spot in the country right at the moment. Quite Bizarre
Apparently it got to 31 deg C which is pretty impressive round these parts. Thank god the humidity is way down. Its 6:30pm right now and I swear it feels just as hot as it did at midday today
Poor Kym is outside doing some gardening which she claims is relaxing, cant quite fathom that. This made me look bad so I thought I'd do something blokey and get the new rotisserie attachment sorted out on the Barbie and get the mighty roast of beef out of the fridge and see what magic I could conjur up for my hard working gardener.
Did I mention its hot?. Australians will of course be laughing at our pathetic high twenties and remind us that its proabably more like 40 where they are, but us Kiwis just aint used to this shit. At least it gives those folks that bitched about the crap weather we were having a couple of weeks ago something to do. No doubt now they will be feverishly complaining about how hot it is this week.
The most excellent thing (as Wayne and Garth might say) about all this great blue-skies weather is that I've been able to get out for a ride every day for the last 7 days running. Ripping up the sticky tarmac and trailing a hot smokey shower of gravel behind me everywhere I go. Traction certainly hasnt been too much of a problem until Thursday that is when I went out midday with poor Agent748 who didnt seem to like the potential tar damage on his poor Ducati.
6:41:34 PM